5 Unique Boutique Hotels in Tel Aviv
The bustling Mediterranean city of Tel Aviv has no shortage of tourists visiting and no shortage of accommodation options to choose from.
Recently, unique boutique hotels have been popping up throughout the city, combining the luxury amenities of larger hotels with a more intimate and personal atmosphere of a smaller hotel. This makes for a great option for those visitors looking for a unique and one-of-a-kind stay during their time in Tel Aviv.


1. The Norman Hotel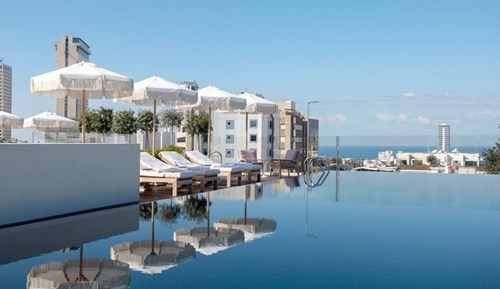 The Norman Hotel is a luxurious boutique hotel located in the center of Tel Aviv on Nahmani Street near Rothschild Boulevard. The 50-room boutique hotel is built in two quaint buildings from the 1920s—one powder blue and the other lemon yellow—overlooking the King Albert Square. Inside the rooms, you'll feel a peaceful urban loft atmosphere with hardwood flooring, floor to ceiling windows, pastel coats of paint, furnished with midcentury furniture.
While staying at the Norman you won't want to miss their rooftop infinity pool overlooking the Tel Aviv skyline and selection of upscale restaurants for a delicious brunch or evening Japanese fusion meal at Dinings.
You'll also be walking distance from Tel Aviv attractions such as shopping on Shenkin street, a touch of history at Independence Hall, or some art and culture at the Nachalat Binyamin Crafts Fair every Friday.


2. The Brown TLV
The Brown TLV hotel was inspired by the glamour of the 1970s and has quickly become one of Tel Aviv's most coveted boutique hotels. The 30 guest room hotel is located on Kalisher Street, close to the trendy Neve Tzedek neighborhood and boasts a stunning rooftop.
It's not uncommon to see the Brown bar and lounge garden packed with visitors as its one of the most happening locations in Tel Aviv's vibrant nightlife.
The hotel is comprised of a rich palette of brown leather, pop art, and other street artist works sprinkled throughout. It's unique design has even lent itself as the set for countless fashion photoshoots and projects.
While visiting you can make your way to nearby Neve Tzedek neighborhood for a posh brunch or take a day trip to the beach for some fun in the sun.


3. Lily & Bloom
In July 2015, Lily & Bloom burst onto the scene of boutique hotels in Tel Aviv. The charming boutique hotel is located on Lilienblum street close to the White City's most popular attractions—namely the Abraxas North Restaurant and Bar and the happening Rothschild Boulevard.
Lily & Bloom is dedicated to celebrating Tel Aviv's cultural and architectural spirit. The building was designed in the 1930s by architect Alex Friedman and is one of many municipality protected Bauhaus structures in the city.
The boutique hotel's design is fun and eclectic with specially made furniture from Italy combined with finds from the Jaffa Flea Market and works of Marc Chagall. There's also no shortage of activities with the 37 room hotel featuring a Solarium where you can take rooftop yoga classes, or attend a variety of fun events hosted in their lobby.
You'll also be close to the junction of Allenby Street and Rothschild Boulevard, an intersection full of bars and restaurants and the famous Shuk Allenby Rothschild for an endless supply of eclectic dining experiences.


4. A23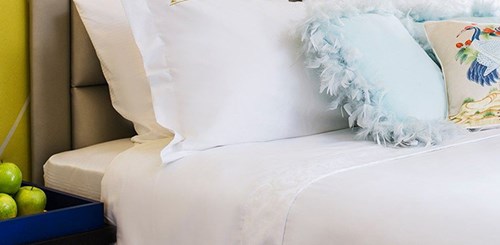 A23 is a brand new boutique hotel in Tel Aviv located in the Old North on the corner of Arlozorov and Dizengoff Streets. The unique hotel is characterized by an inimitable Italian flair in design paired seamlessly with warm Israeli hospitality.
The atmosphere at the boutique hotel is sophisticated and cosmopolitan, giving you a unique experience during your vacation. You'll also be able to enjoy the hotel's eatery, a23 restaurant, located on the street level. Signature dishes include Israeli classics with a twist such as shakshuka with merguez sausages, and favorite bistro dishes by acclaimed Israeli chef, Sabina Valdman.
A23 is located at the very beginning of Tel Aviv's Old North neighborhood which is in close proximity to attractions such as the beach and Park Hayarkon. Make your way to the park for a fun-filled day of kayaking or riding bikes.


5. Alma Hotel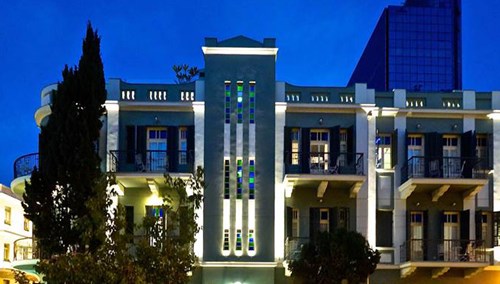 The Alma Boutique Hotel offers an eclectic design experience with 15 unique rooms and a gourmet restaurant and lounge.
The Alma's building design dates back to 1925 when it was once a private residence. The Tel Aviv boutique hotel has been restored to its original glamour by creating an almost fantasy style interior reminiscent of the 1920s.
Be sure to experience the Alma Lounge a gourmet restaurant headed by chef Yonatan Roshfeld, one of Israel's top chefs. You can even choose to attend a cooking workshop with him in addition to the over the top breakfast, lunch and dinner served there.
Located on Yavne Street, you will be in close proximity to the heart of the White City with bars, restaurants, and the beach only a fifteen-minute walk away. Most notably you'll be close to Shuk Bezalel (Bezalel Market) and Shuk HaCarmel (Carmel Market) where you can get a taste of authentic Israeli street food.
Places to visit in and around Tel Aviv