Beach & Sun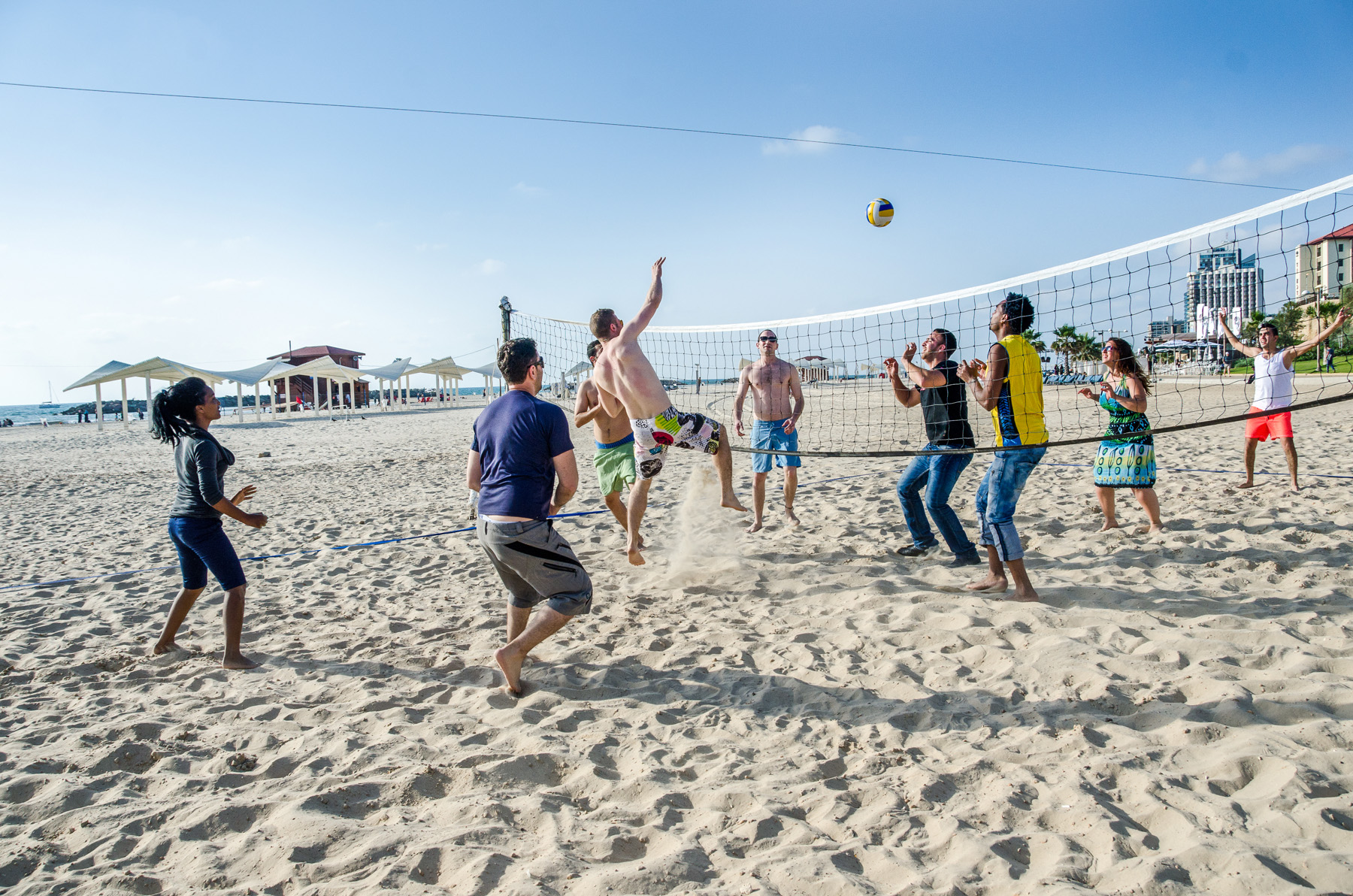 Tel Aviv, with golden sandy beaches that have been rated among the world's top-ten by National Geographic and as one of the top-ten beach resort cities by Lonely Planet! No surprise really, to anyone that has enjoyed its more than 300 days of sun every year, beachside fun and the lap of waves of the Mediterranean Sea.
A 14km stretch of turquoise sea and 13 beaches (along with additional beaches in Bat Yam and Herzliya that are no less inviting), the Greater Tel Aviv beaches are alive day and night, especially during the summer, when tourists and locals alike descend en-masse on the Lahav Promenade, which runs the length of the beach, from the Herzliya to the Bat Yam border. But the Mediterranean shoreline is a vortex of activity all the year-round, with beach goers playing "matkot" (an Israeli beach racquetball game that is almost synonymous with Tel Aviv beach culture), taking a dip in the inviting Mediterranean, or befriending the pooches that roam Doggie Beach. The range of watersports options is inviting too, with lessons and/or equipment available for kayaking, kite surfing, windsurfing and paddle boarding, and similar pastimes. Tel Aviv beaches are annual Blue Flag recipients, meaning they meet rigid standards for water quality, environmental management, safety and services, among other categories.
Ever since Tel Aviv's first beachside promenade was inaugurated, in 1939, and  - especially since the new Lahat Promenade was launched nearly 60 years later - the seaside area has served as a magnet drawing people to it 365 days a year. Beachfront activities extend throughout the day, the shoreline alive with joggers, cyclists, families pushing strollers, vendors, hair braiders, musicians and mimes entertaining the masses, and beach and seaside cafés and restaurants serving up delicious dishes and refreshing drinks, into the night. Tourists visiting the city on Fridays will enjoy a respite at Banana Beach, known as "Drummers Beach" too, for the amateur drummers that gather there then, afternoons, for a weekly jam session that lasts until sunset and the onset of the Jewish Sabbath.
Outdoor showers are available at all city beaches - and indoor showers in some, as part of changing room facilities. Most beaches offer sunbed or beach chair rental in season; some feature volleyball nets and/or a small fitness area complete with outdoor workout equipment. Some, like Hilton Beach and Metzitzim Beach, are accessible to physically challenged visitors, as is Herzliya's beach for the handicapped.
The official bathing season on Tel Aviv's beaches begins early in May and runs through October, and during these months, lifeguards are on duty most of the day at all city beaches. During the rest of the year, only four beaches offer this service: Cliff Beach; gender-segregated, religious Nordau Beach; Gordon Beach, and Bograshov Beach.
Upgraded Beaches
Activities began five years ago, on upgrading Tel Aviv's beaches with improved access flooring, beach furniture, lighting, bike paths, foot paths, new sun shade elements, etc. Now, the fourth stage of this project, which consisting of improving the area between the Renaissance Hotel and the old Dolphinarium, is drawing to a close, with work on the project's southern section. Eventually, the area between the Renaissance and Hilton hotels will be upgraded in a similar manner.