Bat Yam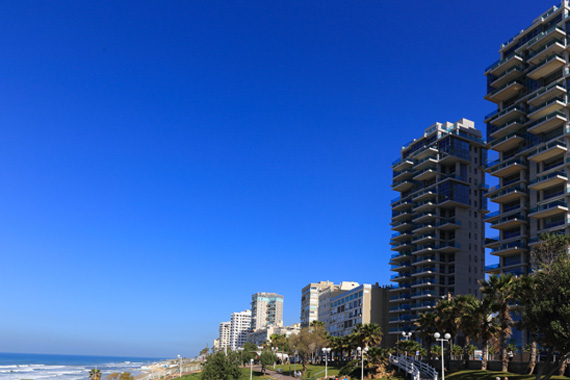 Bat Yam, Tel Aviv's southern neighbor located on the Mediterranean Coast just a short 10-minute drive from the Tel Aviv city center, is an idyllic spot for beach goers.
Its 3.2km of oceanfront promenade fronts some of the Mediterranean Coast's loveliest beaches, while Al Gal, one of the city's eight supervised beaches, is popular among surfers in particular, given its consistent water conditions year-round.  Five additional beaches are not supervised, yet attract crowds of sun worshippers and other visitors.
Sea Palace Beach,'s northernmost beach, unsupervised, features a natural lagoon and a cruise boat jetty; supervised Riviera Beach has gained notice for the temporary art exhibitions mounted there by the beachfront gallery. Water sports instruction and rental equipment facilities are available at some of the beaches, and a gender-segregated beach area for the convenient of Orthodox Jews, is available too.
Theo Beach, now being renovated, Bat Yam's southernmost supervised beach, is undergoing renovation, with a new access path to the beach, pedestrian promenade and a bicycle path from the beach southwards to the city of Rishon Letzion, all part of the plan.
Continuing from Jaffa, the Bat Yam Promenade, site of the world's longest wooden bench, is alive all year round with water-related shows and activities, and also serves as the setting for a moss bamboo deck. (Plans call for the promenade to connect up with Rishon LeZion sometime this year, and to Jaffa to the north, later). The promenade is a focus for a large choice of restaurants and bars, and a variety of concerts, workshops and sports activities takes place on it and the Riviera Beach Pier, which was renovated a few years ago.

In addition, the Bat Yam International Street Theatre Festival, which unfolds by and along the promenade - Israel's oldest and only festival dedicated to original theater pieces in public, urban, unconventional spaces - is an annual autumn event.

Bat Yam has been a haven for Israelis till now, and they flock to the city mainly in summer for its layback, seashore ambience complete with restaurants and cafés on the beach and overlooking the sea. Nevertheless, Bat Yam is an ideal hideaway for anyone - tourist or local - looking to escape the tumult and frenzy of Tel Aviv, close enough to take advantage of all the big city can offer, while based in an oasis of sunbathed tranquility by the Mediterranean Sea.
In its efforts to broaden its attraction to tourists, while also improving the quality of life of its residents, Bat Yam invested in upgrading its lower-level seaside promenade overlooking the beach a number of years ago, transforming it into an enjoyable path for cyclists, joggers, walkers and everyone else. Work on developing the promenade is continuing, and it will connect Bat Yam to the city of Rishon LeZion just south of it, before very long.

Culture MoBY: Museums of Bat Yam, a complex of three museums, including the David Ben-Ari Museum of Contemporary Art, with temporary exhibitions, is Bat Yam's focus of culture for visitors that appreciate art. The city has two shopping malls, Bat-Yam Mall and Bat-Yamun Mall, both of which offer a wide variety of fashion, cosmetic, home stores, and more.

Elsewhere in Bat Yam, the Michal Negrin Visitors Center, the headquarters/production facilities of an Israeli designer with an international reputation and clientele, welcomes guests for guided tours of the premises. Organized by the Municipality's Tourism Department, a guided group tour on Bat Yam's art and history is available too, as well as a tour of the collection of architectural structures and other works, scattered throughout the city, which remain standing after each Biennale of Landscape Urbanism, an event that took place a number of times just a few years ago, bringing together architects, designers and artists to work with the local community and create new models that evaluate the city's principles of sustainability, based on themes that changed from one event to the next, embellishing and improving Bat Yam with an array of what are, in fact, installations of public art, architecture and landscape.
Bat Yam Hotels
Bat Yam features two hotels, both of which are in the vicinity of the beach, overlooking the sea. Additional properties on the southern shores of the city are now in various stages of development.