Sarona: Tel Aviv's Latest Place to Be Seen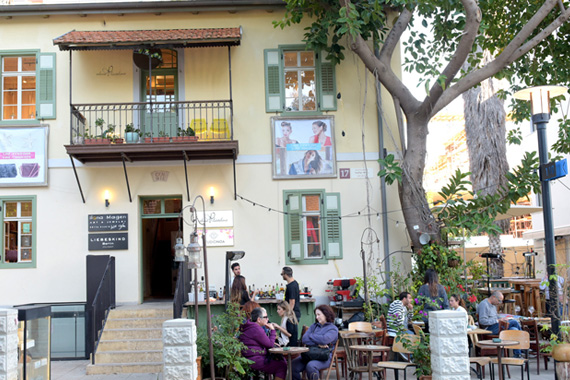 Situated in the heart of Tel Aviv, in one of its fastest developing areas, Sarona, the historic German Templar colony, founded by messianic Templar Christians from Germany about 150 years ago, that came to the Holy Land to await the Second Coming, serve as a catalyst for it and be in the land where and when it will transpire, is the city's newest leisure-time center.
Based on the "lifestyle center" model, Sarona, like Tel Aviv Port and the Hatachana complex, is a distinct urban space based on a historic site. Sarona's balance of commercial and recreational uses, public squares and lovingly landscaped grounds, complement the painstakingly restored original Templar buildings, transformed at a cost of about $75 million into unique spaces by the enterprises leasing them, to add to the experience of visitors coming to shop or browse in the boutiques and artist galleries, or sit at the cafés, bars and restaurants. One of Sarona's newest attractions is Israel's first whisky bar – one of the world's largest, complemented by a small whisky museum.
The Templars
The Christian-German Templars flourished in Tel Aviv, and particularly in Sarona, living in outward harmony with their Jewish and Arab neighbors until World War II, when the British Mandate Government, which ruled the land then and was aware of Nazi sympathizers in the Templars' midst, labeled them "enemy nationals" and banished them into exile.
With the establishment of the State of Israel, much of Sarona was taken over for use by government offices and ministries, and by the Israel Defense Forces, which is still headquartered there, across the road.
Restoration of Sarona
The Sarona project began in 2006, when the Municipality of Tel Aviv-Jaffa approved plans for the area to be restored, leading to the movement and repositioning of five buildings fronting the main road, so that it could be widened. The restored buildings showcase an impressive array of temptations to please many tastes. Eventually, the 47-acre site is to stand at the heart of an urban development program comprising high-rise residential-commercial buildings, commercial activities, a convention center and a hotel, surrounded by a 1.4-kilometer underground ring road with seven entrances/exits and links to 12,000 subterranean parking spaces. Local traffic arteries will be connected with the nearby Hashalom train station and a station of the light railway planned for Tel Aviv, when it materializes.