The Weather in Tel Aviv: Year Round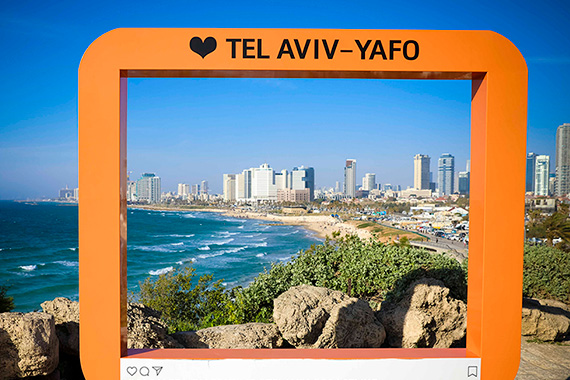 Tel Aviv is a city synonymous for its glorious weather throughout most of the year. As with most cities, there are four distinct seasons. When it starts heating up, residents and tourists descend upon the city's beautiful beaches to take a dip and cool off in the Mediterranean waves.

pring in Tel Aviv: March, April, May
As winter fades and spring comes into effect, the temperature takes a noticeable turn, ranging from 50˚F (10˚C)-68˚F (20˚C) in March, 54˚F (12˚C)-77F (25˚C) in April and 59˚F (15˚C)-81˚F (27˚C) in May. Tel Avivians dress well for the seasons, having perfected an unpretentious fashion scene whereby lightweight breathable fabrics, such as cotton and linen, appear alongside denim and effortless ensembles.


Summer in Tel Aviv: June, July, August
The Tel Aviv summer is hot hot hot, with June averaging temperatures of 64˚F-(18˚C)-84˚F (29˚C), and July and August between 70˚F-(21˚C)-88˚F-(31˚C). Breathable fabrics are essential, alongside a high factor sunscreen, hat and sunglasses. Channel the nonstop Tel Aviv vibe with casual button-ups, pants and swim shorts for the men, and maxi dresses, blouses, shorts and t-shirts for women. The Tel Aviv fashion scene is very casual, where anything goes and everything is in style.


Along Tel Aviv's 14km stretch of 13 breathtaking beaches, you can expect to see a colorful catalog of bikinis, bathing suits and shorts, against the sandy backdrop. For those who prefer a more modest attire, Nordau Beach, located between the Hilton Tel Aviv and Grand Beach Hotel, was inaugurated for the orthodox community as a separated area catering to religious laws and contained by high walls. Designated days for women are Sundays, Tuesdays and Thursdays, and for men on Mondays, Wednesdays and Fridays.


Visitors can enjoy the beach in comfort by renting lounge chairs, tables and umbrellas for a small hire fee from ticket machines which are stationed throughout, or from a designated member of staff. Volleyball nets, outdoor gyms and children's playgrounds are dotted along the shore to keep you entertained all day long. Keep in mind, jellyfish make their presence known in shallow waters during the months of May until the end of September. If any problems should arise, lifeguards and rescuers are spread throughout and on hand to assist.



Autumn in Tel Aviv: September, October, November 
The weather in Autumn is remains warms, with September ranging from 68˚F (20˚C)-86˚F (30˚C), October between 63˚F (17˚C)-82˚F (28˚C) and November taking a slight dip at 54˚F (12˚C)-75˚F (24˚C). A refreshing breeze sweeps the city towards the end of the season, and light cover ups and demin jackets start making their appearance. Still a peak tourist season in Tel Aviv, beaches, outdoor restaurant spaces and the streets remain packed with tourists and locals, so bring along those bathing suits and sunscreen!

Winter in Tel Aviv
Keep in mind, Tel Aviv has a winter season, the coldest months being December through February, with lows of 46˚F (8˚C) and highs of 64˚F (18˚C). Yet, unpredictable heat waves can occur from time to time as hot air from the Sahara Desert reaches Israel. Nonetheless, it's sensible to prepare for a season of intermittent rainy days, (of which there are annually around 40), with weather appropriate waterproofs, sweaters, coats and a sturdy umbrella.