Ben Gurion (TLV) Airport
Ben Gurion Airport is the main international airport of Israel, situated around 19km from Tel Aviv. Established in 1936, the airport changed its name to Ben Gurion Airport in 1973 to honor the first Prime Minister of Israel, David Ben Gurion.



Getting to and from Terminal 3
Terminal 3 is the main international terminal at Ben Gurion Airport, serving the majority of incoming and departing passengers. With numerous transport links operating between Tel Aviv and Ben Gurion, the airport is easy to reach. Israel Railways has a direct line to Ben Gurion Airport Station at Terminal 3 from Tel Aviv's four stations. For an indication of time, the journey from Savidor Central railway station is approximately 18 minutes, and the line runs usually every half hour from each station, starting early morning until late evening. On shabbat (Friday afternoon until Saturday evening), trains do not operate.

Various companies offer shuttles between your hotel and the airport, such as Flo Shuttle which provides 24/7 transport options to both airport terminals.

Alternative options are hiring a private car from a rental company located on-site at the airport or booking a taxi through a private company or via on-demand transport app Gett.



Getting to and from Terminal 1
Terminal 1, the original terminal at Ben Gurion Airport, was recently reopened in 2017 after a major renovation. Serving all domestic flights and low-cost airlines, Terminal 1 can be reached directly by car, taxi or a free internal shuttle bus which runs every 15 minutes (according to schedule) between both terminals.



What's in Ben Gurion Airport?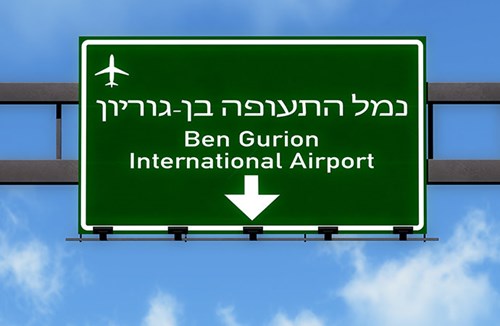 Passengers can stay connected with use of free WiFi across both terminals and charge devices are provided at various points throughout the passenger halls. The main concourse of Terminal 3 offers a range of fashion, jewelry, lifestyle and duty-free shops, as well as restaurants and cafes serving a wide selection of meals and light snacks.

This terminal also has three business lounges: El Al King David Lounge for first, business class and club member passengers, and two Dan lounges, also for first, business class and club members passengers, in addition, those traveling economy can access the lounges for a fee. Here, guests can relax within an intimate setting which offers a self-service buffet, soft and alcoholic beverages, reading materials and a television.

VAT refund counters are operated by Milgam to process refunds for passengers departing Israel. Other amenities in Terminal 3 include a mother and child room in the main concourse, two synagogues, designated playrooms for children and luggage lockers with mobile charging located on the G floor.

Terminal 1 has a selection of eateries, cafes, fashion and lifestyle shops, a duty free and the prestigious Masada Lounge, offering private rooms and facilities for business meetings, soft and alcoholic beverages, refreshments and a selection of newspapers and magazines.

What services are available?
ATM machines and money exchange stations are available in both terminals, as is a VIP service for 'stress-free-travel' providing private transport to and from the airport, the handling of baggage, escort through fast track priority lanes at security, passport control, customs and lounge access. The VIP experience can be arranged through various companies in Israel who operate the service.

What hotels are close by?
A number of properties are located within a 15-20 minute drive to the airport, and discussions remain underway for the construction of a new 250-room hotel within easy access of the entrance to Ben Gurion Aiport.



Places to visit in and around Tel Aviv