Getting Around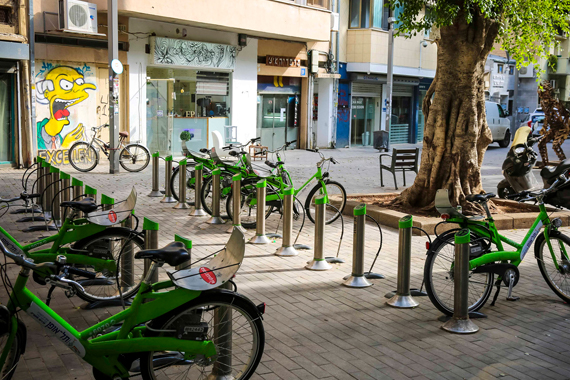 It is easy getting around in Tel Aviv, even if you don't care for Tel Aviv driving. Tel Aviv is a not all that large, and it is very "walkable". In addition, public transport is convenient and cheap, and - traffic permitting - you can get from any place in the city to any other, without undue delay.
Cycling ןin the park 
 Israel Railways, with four Tel Aviv stations (along with one in Herzliya and another in Bat Yam) operates convenient, inexpensive train service, and two local airlines  provide internal flight options between Eilat and Ben Gurion Airport, Dov Airfield in northern Tel Aviv, and Haifa.
Buses are the most popular form of public transport in Israel, both locally and for intercity trips. Most intercity bus lines are operated by Egged, while in the Tel Aviv area, where private bus service also exists, local and intercity transport is provided by the Dan bus company.
 Most urban buses run from about 5:30 AM until midnight. Buses - and trains, for that matter - are comfortable and air-conditioned, and bus service is regular on the most
well-traveled lines.
urban buses run from about 5:30 AM until midnight 
public transportation does not operate on Jewish religious holidays and the Jewish Sabbath (from sundown on Friday night until Saturday night) in Tel Aviv Nevertheless, except for Yom Kippur, considered by Jews to be the holiest day of the year, taxis and jitney taxis (shared- ride transportation, known as "sherutim" in Hebrew) operate regularly.
Taxis are plentiful, though rush hour times may prove a challenge at6 times. Cabs may be hailed on the street, contacted by phone via an app like Gett.
Cycling
Tel Aviv features more than 100 kilometers of bicycle paths, and the Municipality's Tel-Ofan bike rental service and bicycle rental stands scattered throughout Tel Aviv, makes it easy to hop on a bicycle for a few hours or a few days, available from one of the many self-service rental machines - and bikes may be returned to any station. Electric bike rental is available too, from private suppliers.