Start-up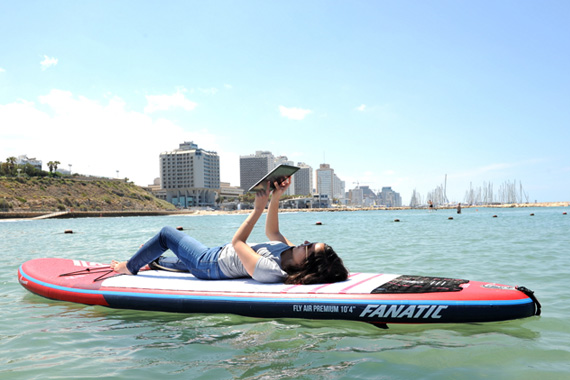 A world leader in innovation and Israel's "Startup City" extraordinaire, with the world's highest density of startups - about 800 early-stage startups (and growing), more than 20 percent of Israel's total - and about 1000 hi-tech companies in which around 39,000 people are employed, Metropolitan Tel Aviv's Startup City holds pride of place for technological innovation in a country ranked first in the world for innovative capacity by the IMD Global Competitiveness Yearbook and also first for business expenditure on R&D, cyber security and entrepreneurship; second for total expenditure on R&D, scientific research and total expenditure on education, and third for information technology skills.
Research by Startup Genome has pointed to Tel Aviv as having the world's second-best startup ecosystem (just behind Silicon Valley), and former U.S. President Barack Obama once termed Tel Aviv the home of the "future world economy." Even about 20 years ago, Israeli firms provided the third largest number of initial purchase offerings (IPOs) on Nasdaq in New York - preceded only by the US and Canada - and the second largest number of IPOs on the AIM Alternative Investment Market in London (after the U.K.), and over 70 Israeli companies are listed on NASDAQ now, more than for Europe, Japan, Korea and China combined. With over 3000 centrally located- startups – and the beachfront, sun, culture and nightlife to keep the best of the best from roaming too far – Tel Aviv is a start-up giant!
The Library
When it was constructed in the 1960s, the 34-storey Shalom Tower, rising to a height of 130 meters, was the tallest building in the entire Middle East. Now, dwarfed by any number of hi-rises in the vicinity, it houses the main branch of the Tel Aviv Public Library. However, as fewer and fewer people take advantage of this service in the Internet age, the Municipality has allocated entrepreneurial space within for budding innovators, at a subsidized rate, for a period of up to half a year, to give them the freedom to focus on developing their product.
Open 24/7 and serving as a "mindspace" for its tenants, complete with password-protected internet, a key to the elevator and an environment conducive to brainstorming and networking, the Library is a stop on almost all startup tours available in Tel Aviv, to help understand the phenomenon, including that offered by Tel Aviv Global City, which also includes in the tour, a visit to the offices of an international venture capital fund that has set up shop in the City district. Private tour companies offer half-day and full day hi-tech experiences, and additional startup exploration options as well, as a means of understanding the many facets that comprise Tel Aviv's ecosystem, via a combination of on-site visits, lectures, presentations, brainstorming sessions, videos, etc.
Startup for Tourists
State of Mind," a new entrepreneurial and innovation center that was launched recently in Tel Aviv's City district, on the premises of the Tel Aviv Stock Exchange, showcases Israeli achievements in innovation and features an exhibition space housing a timeline of startups, product prototypes, informative texts and movies, with a separate auditorium for brainstorming sessions.
In addition, a number of tours are available, for both groups and individuals, for those interested in exploring Tel Aviv's start-up scene, especially in the area around Rothschild Blvd. Some incorporate a visit to the Museum of Banking and Tel Aviv Nostalgia, which portrays the banking, business, cultural and nostalgic life in Tel Aviv and a video about the first days of banking in Israel and around the world, as well as a reconstruction of the first branch of the Israel Discount Bank, a model of a futuristic bank and a 3-D film about the future of banking.
The Bank of Israel's visitors center, at its Tel Aviv offices on Lilienblum St., offers activities and exhibitions designed to familiarize the public with the Bank's main functions and its contribution to Israel's economy. It presents the historical development of money in Israel and the reflection of the nation's and the State's heritage in the design of banknotes and coins, as well as an exhibition of banknotes and coins issued from pre-State days to the present, films, and computer games used to explain the functions of the Bank of Israel, the history of money and the contribution of the central bank to the economy.
For easy access to such tours, there are many hotels in and around Rothschild.