Events & Festivals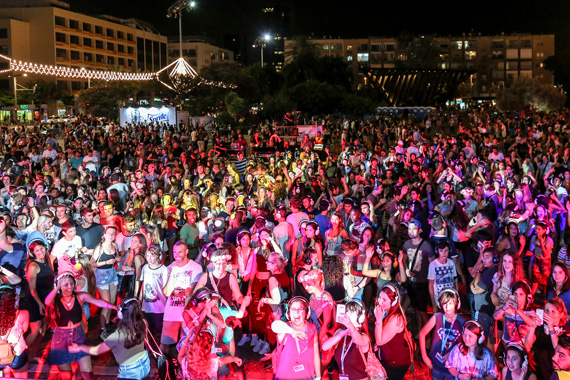 In line with a trend that has been developing in Israel nearly two decades, Tel Aviv hosts a number of annual festivals and events that tourists finding themselves in the city when they are held, will not want to miss. Some of them, such as the annual marathon and colorful Gay Pride Week, even serve as a magnet drawing tourists to come to take part in them in particular.
With plenty of hotels to choose from, it's easy to attend any of these events.


Organized by the Municipality of Tel Aviv-Jaffa, the "White Night Festival" is held annually in late June or early July, and the streets fill with people enjoying the cultural and commercial institutions that stay open all through the night, as well as the many special events that are staged. For film enthusiasts, the Tel Aviv Cinematheque stages a number of annual events "Docaviv," the city's International Documentary Film Festival. Held in May every year, screens the documentary "cream of the crop" from all over the world. Later in May, the Tel Aviv International Student Film Festival featuring the best student films from all over the world, is held at the Cinematheque.
Two other special events are Open House Tel Aviv, an annual weekend festival allowing the public a glimpse into hundreds of apartments, houses, public buildings and select hotels, with free architectural tours taking place, and the four-day Tel Aviv Blues Festival in early July, with about 40 concerts, As a gay-friendly city hosting Tel Aviv Pride Week and an annual gay pride parade,, the city has its own Tel Aviv International LGBT Film Festival that same month at the Cinematheque, where films with a lesbian/gay/bisexual/transgender orientation are screened. DLD, Israel's largest hi-tech conference, is usually held around September, for an international gathering of thousands of professionals working in all aspects of the field, for networking, along with a conference focusing on issues like innovation, digital media, and the like. The next Tel Aviv Cocktail Festival is scheduled to be held this coming July at Hatachana.
Tel Aviv also sponsors an annual night run, with about 25,000 participants, sometime in mid-autumn, and sn annual February |marathon. The next showing of Tel Aviv Fashion Week, which was held early March 2017at the new Gindi TLV Fashion Mall, is scheduled to return next year too. The Tel Aviv Open Restaurants Festival has also been staged for the fourth year in a row,
Holidays are always a fine time for festivals and special activities. Tel Aviv Open Restaurants Festival. Tel Aviv, as well in every city in Israe4l, street performances by some of the country's finest entertainers are free to the public on Independence Day Eve. One of the city's more unusual annual events is its Zombie Walk Parade, to celebrate the Purim holiday.
Food is also as reason for at least one annual special event, and. Tel Aviv's four-day Open Restaurants Festival, an yearly tradition by now, enables restaurant patrons the chance for a behind-the-scene glimpse of the city's restaurant world and learn about it, along with offering them sneak peaks inside restaurant kitchens, culinary workshops and guided tours by chefs of the Tel Aviv restaurant, and an open-air market scene. MARKET.TLV also a newer tradition, is a gathering of Tel Aviv artisans held at Romano House four times a year. in fall, winter, spring and summer. A traditional market and Tel Aviv street party wrapped into one, it showcases fashion and accessories designers, painters, photographers, and other artists that come together for a single day once a season.
For art lovers and others interested in gaining an understanding of Israeli art and culture, "Fresh Paint," Tel Aviv's annual art fair, held in a different city venue each year in late March/early April, attracts over 30,000 visitors a year.
Israeli impresarios are active in bringing top-tier international performers to the country, with star performers like the Rolling Stones, Paul McCartney, Lady Gaga, Beyoncé, Rihanna, Madonna and many others making Tel Aviv a stop on their tours. Dates for these special events are usually announced well in advance, giving groupies and other fans an opportunity to combine a visit to Tel Aviv with a memorable musical experience.