Ramat Gan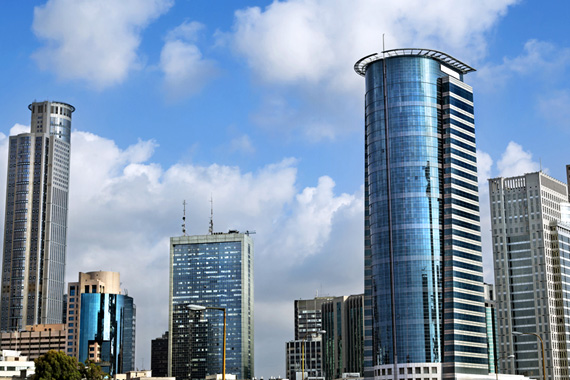 Ramat Gan, located east of Tel Aviv and little more than 12 km² in size, is Hebrew for Garden Heights. Planned as a city of gardens and greenery, it is a metropolitan hub and bustling commercial center in its own right, and is home to the Ramat Gan National Park and adjacent "Safari."
Renowned as the site of the Israel Diamond Stock Exchange District, the heart of Israel's flourishing diamond industry, it also is the location of the Harry Oppenheimer Diamond Museum, the Ramat Gan Museum of Israeli Art, Ramat Gan Stadium – Israel's national stadium, which regularly hosts international football matches, athletic competitions and SRO concerts – and Beit Zvi, Israel's most prestigious acting school, with its theater productions (in Hebrew).
Safari & National Park
Ramat Gan is also home to the "Zoological Center in Tel Aviv," a zoo and safari experience known to everyone as just the Safari. A drive-through experience where lions, rhinos, ostriches, and other creatures roam a dedicated area of the park's spacious grounds, it is unique in the world for its large herds of mixed species of African animals - the largest assortment of animals in the Middle East – which live unpenned, in habitats resembling their own natural space. The Center features a worldwide collection of 1600 animals, including 68 species of mammals, 130 species of fowl and 25 species of reptiles, on 250 acres in the heart of a metropolitan city.
The outdoor zoo, with 83 species of mammals, 92 species of birds and 23 species of reptiles, is home to breeding herds of African and Asian elephants, a new monkeys environment, and much more.
The Ramat Gan National Park, with its lake, grassy picnic and barbecue areas, biking paths, hiking trails, lawns and green lungs ambience, is also the site of the Man and the Living World Museum, which offers a fascinating assortment of exhibitions, displays, activities, guided tours and experiences, activities and tours for children and adults, all of which revolve around man and the living world - issues like the development of creatures on our planet, reptiles and dinosaurs, prehistoric man, movement, skeleton and muscles, the brain and nervous system.
To partake in the quintessential "Israeli Experience" (if your trip to the country happens to fall on Israel Independence Day), join the hordes of Israel's that descend upon the park that day, to celebrate the holiday with choc-a-bloc barbecues - but get there early to stake out a space, because they all will all be filled by mid-morning.
Ramat Gan Hotels
Ramat Gan offers four hotels: the Leonado City Tower and the Indigo, both near the Diamond Exchange; the Kfar Maccabiah, by the Safari (located on the Maccabi Village compound, which also houses the Maccabi Sports Museum, presenting the history of the Maccabi Movement and Jewish sport through film, pictures, badges, flags, medals and trophies) and the Rimonim Optima, in the heart of the city and roughly equidistant from the others.