Tel Aviv City Center & Rothschild Blvd.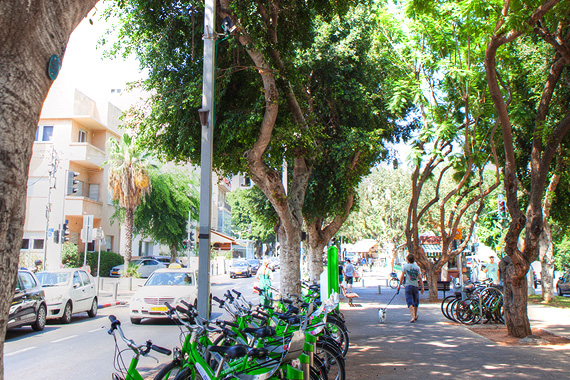 Lined in the South by some of the original lottery apartments around which Tel Aviv was founded and culminating in the North by Habima Sq, and its small, lovely garden, Rothschild, with its iconic ficus trees, has always been beautiful, and one of the city's paramount people-watching areas, even before Tel Aviv's White City, its assortment of.
Bauhaus-style and International-style houses, many of which were erected on or around the boulevard, were recognized as a UNESCO World Heritage Site. Slowly but surely, in little more than a decade, this dynamic area of the city has come to be recognized as the focus of Tel Aviv's newest center for just about everything not associated with the sea.
The City is roughly bounded by Rothschild, from the Habima Theater and Bronfman Auditorium Theater Square complex in the North, to Allenby St., in the South, stretching south from there to encompass Lilienblum St., alive for years with its lifestyle vibe, and gentrified Neve Tzedek, Tel Aviv's first 19th-century neighborhood north of Jaffa. It also includes Sheinkin St. (running from Rothschild Blvd. to the entrance to Carmel Market) Tel Aviv's first trendy neighborhood, and still quite attractive with its shops and cafés. In fact, the entire Heart of the City area has been developing into a tourism octopus that just keeps on growing, with easy access to the dining, nightlife and clubbing scene area east of Hamasger St., as well as the trendy art spaces and young fashion designers on or around Hahashmal St. at the western edge of Allenby St. (named by food, drink, and travel website Thrillist in 2014, as one of the world's top-ten sexiest neighborhoods).
For a true, old-time Tel Aviv feeling, visitors are sure to enjoy snacking any time of the day at a counter at one of the kiosks located along Rothschild Blvd., in the midst of Tel Aviv's most important "White City" Bauhaus area. The boulevard, adorned with red flower trees and flanked by numerous restaurants of many types, and cafes, is an urban "people experience," a vibrant blend of neighborhood types: trendy young locals and their dogs - getting together to socialize or take part in the kiosks' lively pick-up scene; the elderly and the passersby resting on a boulevard bench; Hassidic Jews living in harmony with their young secular neighbors; housewives and children. In short, it's a microcosm of local culture and humanity. Though quality restaurants for a range of budgets dot most of the street, as do cafés, the section of Rothschild from Balfour St. southwards has been exploding these last few years as a new Tel Aviv focus for dining and nightlife, with pubs and specialty restaurants opening there all the time.
Tel Aviv-Jaffa has been endeavoring to make old boulevards like Rothschild much more inviting, with new landscaping, benches and additional elements for the benefit of the public, transforming them into urban havens to hang out and mingle.
As one of Tel Aviv's most dynamic centers, the district is part of any number of themed guided tours – Bauhaus architecture start-up, history, and others.