Bauhaus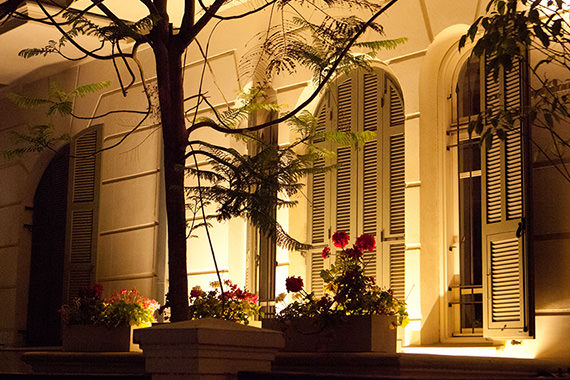 Along with the artistic performances and events that it offers, Tel Aviv is also a study in architectural fascination, not only because of its latest futuristic edifices, even for those for whom architecture is little more than a 12-letter word. In Jaffa's ancient port area (a marina today, complemented by a variety of other tourism options), mediaeval motifs were expanded upon under Ottoman and British Empire rule and then absorbed within Tel Aviv.
During the 1930s, when the modernist movement in art reached its zenith in Europe, Tel Aviv, hardly out of its teens, was in a stage of intensive development, with most of its architects coming from Europe and bringing with them the ideas of the modernist movement. Influenced by the works of Le Corbusier, Erich Mendelsohn, and especially the Bauhaus School of Art and Design, they constructed what has become the largest and most impressive collection of Bauhaus architecture anywhere in the world, transforming parts of Tel Aviv's central area into a source of beauty and even inspiration for those that seek out such aesthetic forms. In 2003, UNESCO proclaimed the "White City" of Tel Aviv, its Bauhaus areas, to be a World Heritage Site, citing that: "The White City of Tel Aviv is a synthesis of outstanding significance of the various trends of the Modern Movement in architecture and town planning in the early part of the 20th century. Such influences were adapted to the cultural and climatic conditions of the place, as well as being integrated with local traditions.". Ever since then, Bauhaus Architecture and the White City have become synonymous with Tel Aviv. Travel publication Condé Nast Traveler has ranked Tel Aviv and its White City Bauhaus architecture as one of the world's top-10 recommended architecture destinations and the city is about to inaugurate the White City Center, a municipal museum devoted to Bauhaus, which is scheduled to open in 2019. The Bauhaus Center on Dizengoff St, houses a permanent and temporary exhibition and a shop.
The Bauhaus Center offers Bauhaus walking tours in Hebrew, English, Russian, German, French and Italian. Other than this, the municipality has its own Bauhaus tour, free, of charge every Saturday morning, departing from 46 Rothschild Blvd., and private, more academic or professional tours are also available.
Bauhaus was not just architecture, but design and crafts too, and a small museum dedicated to these achievements is open at Bialik Sq.
Bauhaus Hotels
Today, the city has about 4000 buildings in the International style – the Tel Aviv version of Bauhaus – including a number of newer, smaller hotels like the Cinema and Center Chic, Atlas Chain properties facing on another on Dizengoff Sq., Rothschild, Norman and Poli House, all in transformed Bauhaus properties, about 1100 of which have been earmarked for preservation.