Malls & Streets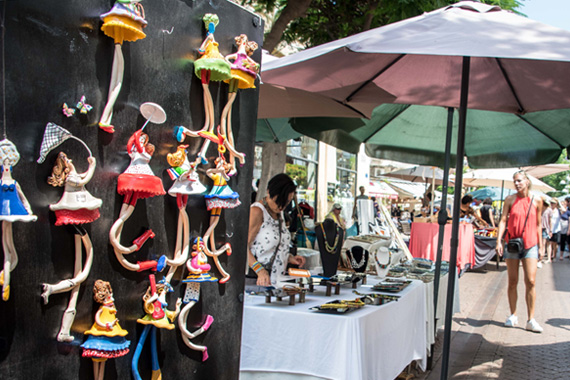 Israelis have become addicted to malls; Tel Avivans are no exception. Some of the more popular are Dizengoff Center, the Azrieli Mall, Tel Aviv and the up-market Ramat Aviv shopping center in the north of the city. The Gan Ha'Ir Shopping Center also is favored. Adjacent to Tel Aviv's City Hall, it features shops selling exclusive, expensive household goods, jewelry, watches, etc., as well as the latest designs from Israel and abroad. On Thursday afternoons and Friday mornings, home chefs and small entrepreneurs showcase their cuisine and specialized food products at Dizengoff Center, and it's a wonderful place to sample the finest local foods and ethnic home cooking: cakes; cheeses; olives and pickles; virgin olive oil; stuffed vegetables; cholent; home-baked breads; böreks, kubbeh soups; roasts; gefilte fish, and even more exotic specialties like (Persian) gondi and sushi. Order a takeaway portion, find a place to site on the sidelines, dig in and enjoy.
Malls are also a popular pastime elsewhere in Greater Tel Aviv. The Arena Mall, Herzliya, located as part of the marina and housing the Ritz-Carlton Herzliya, is a stylish upmarket facility with a wide range of shopping and dining options, as is Herzliya's Seven Stars Shopping Mall. Bat Yam's two shopping malls, Bat-Yam Mall and Bat-Yamun Mall, offer a wide variety of fashion, cosmetic, home stores and more, as does Ayalon Mall in Ramat Gan, one of Israel's first modern malls.
Shopping Streets
For shopping the old-fashioned way, Dizengoff St. still has much to offer, as does Kikar Hamedina, in the northern part of the city, one of Tel Aviv's most exclusive shopping areas, with a cosmopolitan ambience. For those in search of more exclusive mementoes of Israel , the art and antique galleries situated in the alleyways of Old Jaffa, are a joy. This is also a wonderful strolling and window shopping area.
While the creations of some of Israel's most successful designers can be glimpsed - and tried on - in the boutiques along Dizengoff St., other no less inspiring collections can be spotted in show windows in various neighborhoods throughout the city - old residential districts, like the area around Masaryk Sq., just a stone's throw from the Tel Aviv Jaffa Municipality Building, or what were considered less desirable parts of the city until not long ago, like the old industrial Hahashmal St. area, at the intersection of Allenby St. and the Tel Aviv-Jaffa Road, (where accessories, jewelry and other interesting items can be found), or the small area adjacent to the eastern end of the Nahalat Binyamin Pedestrian Mall. Other than these, Neve Tzedek, one of Tel Aviv's most gentrified areas, is home base for many young and talented artists - fashion designers included. Sheinkin Street, once Tel Aviv's trend-setting district, is another focus for fashion. Sheinkin still shines with some interesting finds, but wander through the side streets as well - Ba'alei Hamlacha St., for example - for some pleasant surprises.
On Ben Yehuda Street leather shops offer top quality merchandise, while others sell carpets from around the world, and there are some interesting souvenir shops and antique shops too - a number of which specialize in Judaica. The area near Tel Aviv's Great Synagogue, on Allenby St., also features a concentration of shops dealing in where Jewish ceremonial objects like tefillin, mezuzzot and bar mitzvah accessories.