What They Say
"You see New York and Ibiza had this torrid love affair and had a baby. They called her Tel Aviv. She inherited her parents' best features - the 24/7 nightlife and culture of New York, and beaches and beautiful people of Ibiza. If your religion is art, dancing and beaching, I suggest you …get to Tel Aviv this instant." The article from which the above observation/suggestion was quoted, appeared in the Huffington Post in 2016, one of over 2600 articles mentioning Tel Aviv that were published that year.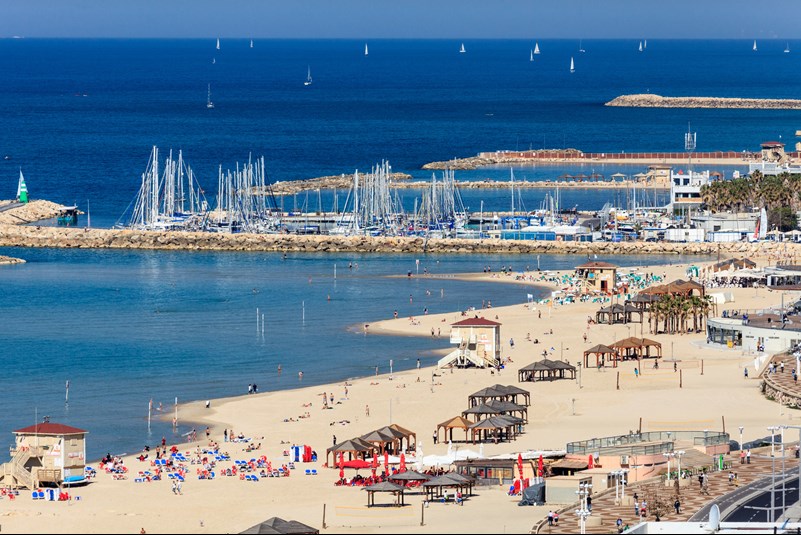 dancing and beaching 
Tel Aviv has made the Telegraph's list of "best party cities in the world," and Business Insider has depicted it lovingly as "one helluva city…, full of clubs with top-notch DJs, that doesn't seem to have a single care in the world. Then throw in a hot climate, some scantily-clad men & women and one of the Mediterranean's prettiest beaches—and you've got Tel Aviv." And the publication has included Tel Aviv in its round up of the "25 best cities for foodies." Travel publication Condé Nast Traveler has ranked Tel Aviv and its White City Bauhaus architecture as one of the world's top 10 recommended architecture destinations, in addition to naming it the world's vegetarian food capital.
CNN has placed the city on its list of the "world's hottest destinations for vegans" and it was ranked the number one destination for vegan travelers by the Daily Meal. Both Yahoo! and Smartertravel.com have included the Gordon-Fishman Beach on their recent list of "10 Great Urban Beaches," MasterCard has ranked Tel Aviv No. 5 on a list of the 10 most visited cities in the Middle East and Africa and Travelers Digest has named it one of the 10 top cities in terms of attractive men and women.
The Independent (London) has placed Tel Aviv seventh on its list of recommended City Break holidays; National Geographic has selected the city as one of the world's top 10 beach cities; Newsweek (New York) has included it in a list of the top 10 cities for nightlife.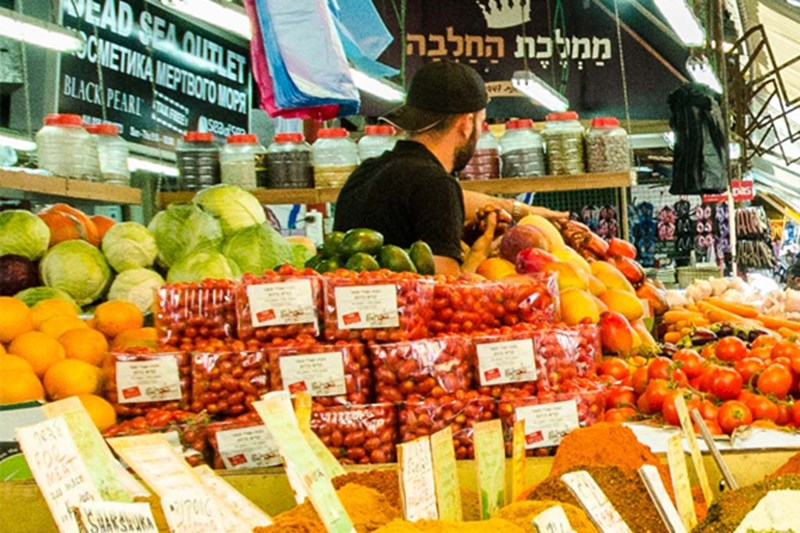 food market in Tel Aviv 
The New York Times has referred to Tel Aviv as "The Capital of Cool." - with this latter watchword also employed in articles by the U.K.'s Express and Mirror - the former referring to "tolerant Tel Aviv" as "…the Mediterranean's new capital of cool" and the latter speaking of it as "…a cool and cosmopolitan coastal city that totally confounded all my expectations - with its unique cosmopolitan mix of traditions and people, it's a fascinating and thought-provoking city."
And how about this for an endorsement: "Ask any entrepreneur for a list of the most renowned cities in the world for starting-up in and you can be sure that Tel Aviv will be one of the first names to roll off their tongue," states Richard Branson's Virgin's website. This praise for the city as a business and start-up center finely complements the sentiments of an article in business publication Forbes, which referred to Tel Aviv as "destination of the year," as well as those of an Internet poll sponsored by the marketing department of the Wall Street Journal, in which Tel Aviv was chosen as the world's second "Most Innovative City" - ahead of New York City! The list gets longer each year and the praise keep on growing.
Places to visit in and around Tel Aviv