Shopping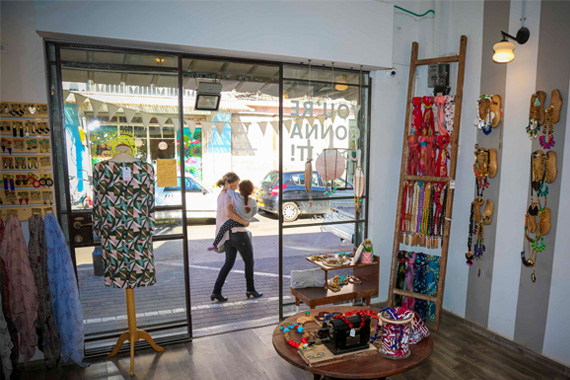 Tel Aviv, Israel's cosmopolitan nerve center, the heart of its commerce, the focus of sea, entertainment and fun, has also earned a stellar reputation for the breadth and quality of its shopping.

Antiques, locally designed jewelry, diamonds – with a focus on Ramat Gan - furs, leatherwear and works in copper, silver and gold are but a few of the upscale products for which metropolitan Tel Aviv is well known. Malls stocked with a wealth of fashionable designed goods – and everything else you'd expect in a modern mall - trendy boutiques featuring the latest creations of renowned designers from home and abroad, small specialty and souvenir shops, art galleries and auction houses, distinct ceramics and Judaica both old and new, textiles, beachwear, and more – all this too is Tel Aviv.
There are several main Tel Aviv markets, each with its own unique character, where visitors can find interesting food and other staples at true bargain price. The Bezalel Market is located in the heart of Tel Aviv, near Allenby and King George streets. Now that most of its landmark falafel stands have been uprooted to make room for what will eventually be upmarket high rises, it is of interest primarily for the small clothing stands and shops that offer great deals and surprising finds.
Located across the road from Bezalel, the Carmel Market, stretching westwards from Allenby St. towards the seafront, is the largest Tel Aviv market, the largest in Israel. Nearby too is the Nahalat Binyamin Pedestrian Mall, an old section of the city renovated and gentrified in recent years, which is transformed into a twice-a-week arts & crafts street bazaar. East of Nahalat Binyamin and within walking distance of it, Levinsky Market is best-known for spices of every kind (and even if you have no need to take spices home, the exotic aromas are well worth the trip).
A particular "must" for shopping aficionados - and who isn't ?! - is Jaffa's Flea Market ("Shuk Hapishpeshim"), southeast of the prominent Turkish clock tower, an area that has been renovated recently.
The Sarona project, located in the district of Tel Aviv first inhabited in the 19th century by German Templar settlers that came to the Holy Land as part of their religious beliefs in the Second Coming, to serve as a catalyst for it and to be in the land where and when it would transpire, opened a few years ago, within the site's 40 Templar buildings that have been designated for preservation. The facility has been designed in the spirit of the period and features a tourist information center, shops, restaurants, complemented by the upscale indoor Sarona Market for everything culinary. Sarona market's success has led to the development of two smaller upscale markets in Tel Aviv – one on the corner of Allenby St. and Rothschild Blvd. and another in the Ramat Hahayal district in the northeastern part of the city.
Stay at any of our hotels for easy access to shopping all around the city.