Promenade Hotels
Stretching from the Herzliya border and running south through Jaffa, to connect to the promenade in Bat Yam, the Lahat Promenade, as the most recent reinvention of Tel Aviv's esplanade is termed (in memory of Tel Aviv Mayor Shlomo Lahat, who oversaw its development during his terms in office), serves as the setting for some of Tel Aviv's finest upmarket properties, its promenade hotels.
Fronting the sea and just footsteps away from the promenade and all its activities and resort vibe, the shoreline comprises both local properties and those managed by international chains.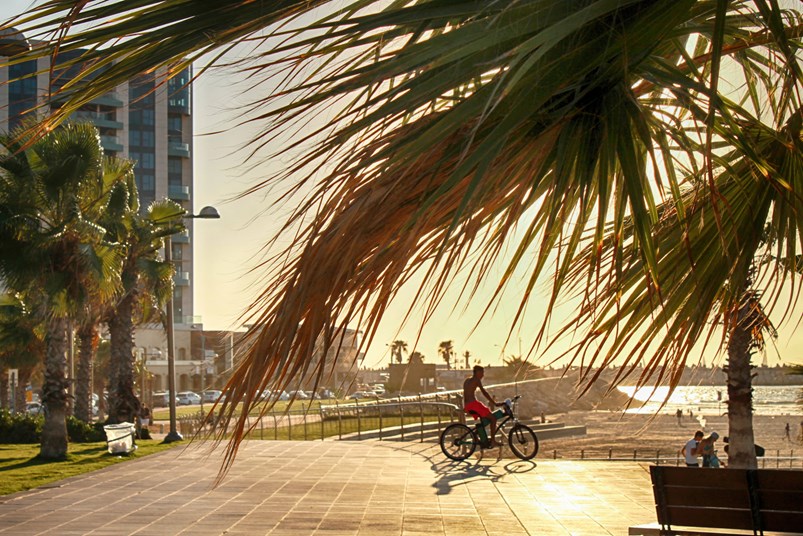 riding along beach at sunset in Herzliya
The Hilton, Carlton, Leonardo Art, Herods, Crowne Plaza and Renaissance (North to South) are the northernmost promenade properties. Then the road curves, so that the Sheraton, Prima Tel Aviv, Dan, Orchid, Golden Beach, Royal Beach, InterContinental David and Dan Panorama overlook the promenade from across Herbert Samuel St.
Many other hotels, the majority of which cater to budget groups and more cost-conscious tourists – the Imperial, Best Western Regency Suites, Maxim, Lusky Suites, Embassy, Arcadia Tower, Isrotel Tower, Brown Beach House, Gilgal and Metropolitan are merely a stone's throw away, also on the side of the road separating the promenade from the city, as are the Bell Boutique, Abratel Suites and Savoy hotels, north of Allenby St. Two more, Artplus and the Mercure Tel Aviv, are situated in the area just east of the promenade, on lower Ben Yehuda St.
Six major hotels in Herzliya – Herods, Ritz Carlton, Dan Accadia, Daniel, Orchid Okeanus and Sharon, are situated overlooking the promenade Herzliya has developed, running between the marina to the Sharon Hotel; while no hotels in Bat Yam stand on the promenade there, the two that operate in the city, the independently managed Armon Yam and the Fattal Hotel Chain's Leonardo Suite by the Beach, overlook it, and two new beachside hotels are now being developed on Bat Yam's southern seashore.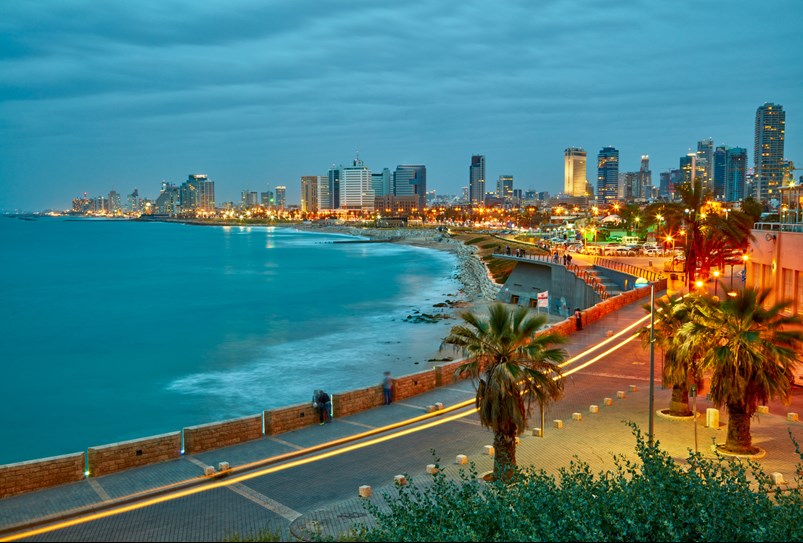 After sunset view from Jaffa 
For guests in search of a resort vacation, a beachfront interlude at a promenade hotel in the Tel Aviv region, is an ideal choice. Particularly during summer, the sea vistas, wonderful beaches and all they offer vacationers, complemented by the promenade buzz, make for the perfect holiday setting, complemented by the comfort of enjoying your home-away-from-home experience in a full-service hotel, with an option in some, for a room or suite with kitchenette.
Selecting a promenade hotel with the beach and sea as its focus, is a wonderful way to spend a relaxing holiday in Greater Tel Aviv, and with a city so compact and navigable, that nearly all spots within it of interest to tourists, are but a short ride away.
So, whether you fancy a beachfront property, or one a short distance away, make sure the beach is part of your Tel Aviv-region fun regimen. Grab your towel to spend a few hours or a whole day at the beach – and get there by jogging or biking along the promenade, if you're the sporting type,
Places to visit in and around Tel Aviv