Nahalat Binyamin
Running between the northern entrance to the Carmel Market, and Gruzenberg St., the Nahalat Binyamin Pedestrian Mall is located in an old section of the city renovated and gentrified in recent years. A place to see and be seen, it is packed with shops and outdoor cafés and features some of Tel Aviv's most beautifully restored old architecture. Look for the Bauhaus style in particular, where one of the buildings has just been transformed into a trendy design hotel.
Twice a week, on Tuesday and Friday, Nahalat Binyamin is transformed into an arts & crafts street bazaar. Craftsmen showcase their original works and visitors are certain to find special ceramics, leather goods or jewelry trinkets and souvenirs. To gladden the time even more, mall entertainment is provided now and then by street musicians, clowns, magicians and mimes, usually between April and October.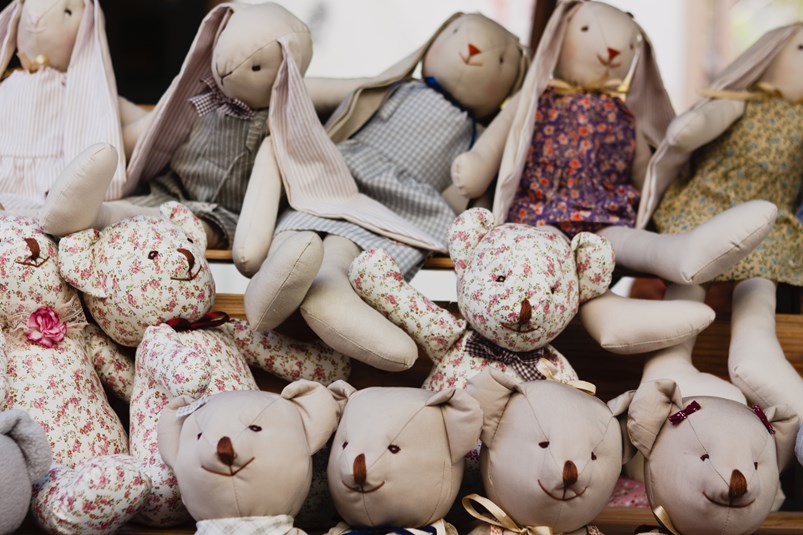 Vintage-style toys at Craft-marke 

Located in one of the city's oldest districts along part of what once was the longest street in Tel Aviv, Nahalat Binyamin features buildings constructed more than a century ago by tradesmen, clerks and shopkeepers that dreamt of developing an affluent suburb for themselves.

After undergoing a vetting process, and agreeing to sell handmade crafts only and to be present in person whenever their regular stall is operative, two hundred and more artists turn up each time to sell their works - beautiful glass dinnerware, custom made door signs, olivewood cutting boards, beautiful jewelry designed in a range of media, and much more.

Some artists view the craft fair as their primary means of selling their works, while others also sell via galleries; some may invite visitors to visit their own studios to view their works.
Places to visit in and around Tel Aviv