North Beach Beaches
Lovely beaches grace Tel Aviv's North Beach area. Hatzuk Beach North (known also as Mandarin Beach) is beautiful, clean and well-kept, with lawns, showers, changing rooms, walking paths and an outdoor gym. It and Hatzuk Beach South (also called Sea & Sun Beach) are the city's only two beaches with an in-season entrance fee during the day.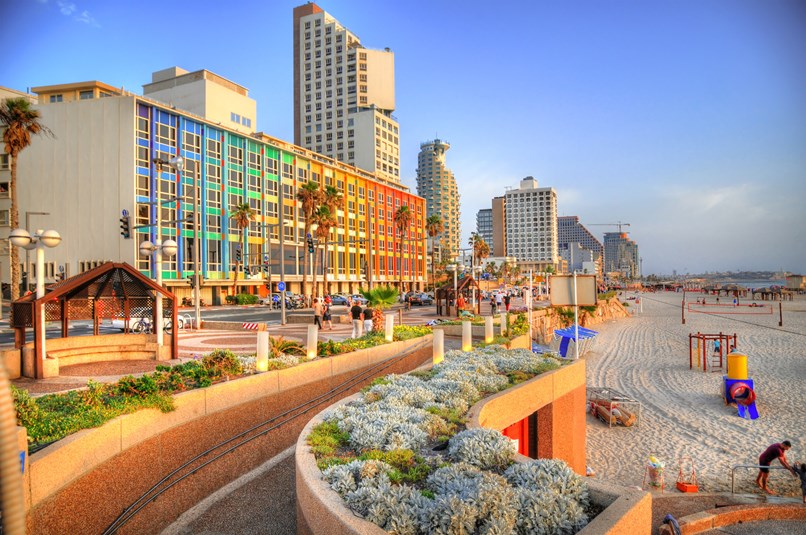 lovely beaches 

Just south of Hatzuk, Tel Baruch Beach, with its outdoor fitness facility and green grassy areas that serve as a barbecue venue for Israelis during the
evening, also features a small, calm bay – perfect for kids.

South of the Wykoff Bridge, a Tel Aviv landmark separating the city's three northernmost beaches from the port area, and right past the port, Hamitzitzim Beach ("Voyeurs" Beach, named after a scene in a movie filmed there nearly half a century ago) boasts a children's playground, three volleyball courts and an equipped outdoor workout area while the Religious Beach, to its immediate south, has been set aside for ultra- Orthodox Jews, with separate bathing days for men and for women - Sundays, Tuesdays and Thursdays for women; Monday, Wednesday and Friday for men. From Friday evening until Saturday night, the period of the
Jewish Sabbath, the beach is open to all.

A favorite of surfers and a venue for various surfing competitions, Hilton Beach, from the Tel Aviv Hilton to the Tel Aviv Marina and Gordon Swimming Pool, is three separate facilities: Hilton Beach North (the Dogs Beach); the Gay Beach, and Hilton Beach South, with a wide breakwater dividing the beach into two separate bays, A surfing and kayaking school is located just north of the Gay Beach, while surfboard and windsurfers are available for rent at the marina, and diving is also possible here. For less active sea lovers, yacht cruises also depart from the marina.
great Urban Beaches 

Following to the south, the seaside area running from Gordon Beach southward either has been refurbished or is in the process, while the section from Gordon northwards is scheduled for similar treatment. Gordon Beach, Frishman Beach and Bograshov Beach – the first two singled out by both Yahoo! and Smartertravel.com on their recent list of "10 Great Urban Beaches – are wide, sandy, and crowded in season, with many tourists opting for them since they are adjacent to many hotels.

Trumpeldor Beach, recognizable by the promenade statue fronting it, is a quiet, unsupervised beach, no lifeguards and no facilities or equipment, but the beach is open for sunbathing, and other sandy activities. Bars and restaurant are situated across the road from the promenade, particularly in the area from Frishman Beach to Jerusalem Beach.
Places to visit in and around Tel Aviv