Carmel Market
The Carmel Market, stretching southwards from Allenby St. to less than a km from the Inter Continental David Hotel, is the largest and busiest market in Tel Aviv - or in Israel for that matter. Spices, pickled treats, fresh fruits and vegetables, flowers, meat and fish, household goods, baking goods and more: quantities are enormous and the prices are low.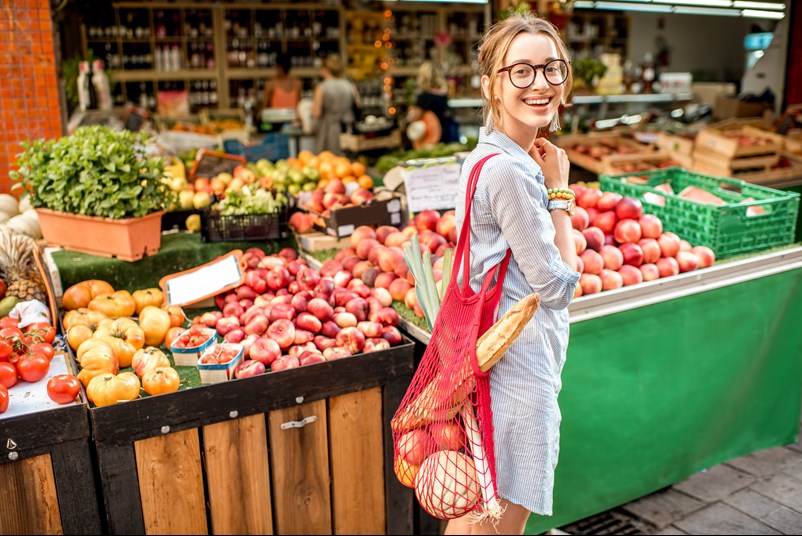 fresh fruits and vegetables 
Rub shoulders with a cross-section of Israel in this market's crowded and bustling streets and lanes; enjoy the stall vendors as they pitch their wares. You may not understand the language, but there's no escaping the exuberance. It is the essence of Tel Aviv's Middle Eastern character and also the place to find excellent bargains.
Savor the noise, smells and excitement. The friendly vendors best patter in Hebrew, usually praising their goods, but will also enjoy babbling in English, or bits and pieces of other languages if they notice a visitor and guess where he or she is from.
 Exploring the market for its local fast food counters and range of informal restaurants can make any visit to that more enjoyable, and combining it with a tour of the adjoining Yemenite Quarter ("Kerem HaTemanim"), which offers an excellent choice of casual ethnic restaurants for dining throughout the day - a sense of Tel Aviv from before the time the city was even founded - will only enhance the experience.
Whether you spend just an hour or two rubbing shoulders with Carmel Market regulars and the tourists that flock there, or put on your walking shoes for an extended though leisurely romp exploring the market's toothsome delights,  this is one Tel Aviv institution that is sure to be high on any Tel Aviv visitor's  list of tourism musts.
Places to visit in and around Tel Aviv