Kosher Restaurants in Tel Aviv
Tel Aviv's thriving culinary scene has grown in influential status both locally and internationally, including its repertoire of first-rate kosher restaurants. In recent years, Tel Aviv's kosher dining scene has emerged as a producer of first-class cuisine for meat, fish and dairy eaters alike, most of which serve a special menu for Passover.

On your next visit to the nonstop city, here's where to make a reservation…

Deca
Established over a decade ago, Deca is one of Tel Aviv's most frequented kosher restaurants which serves a diverse selection of fish, dairy and vegetable dishes. Located near the Sarona complex, Deca's menu features starters of fish falafel and salmon tartar, mains of fish – grouper, tuna, salmon – you name it, they have it, as well as gnocchi, cheese ravioli and more! Round off the meal with one of their irresistible desserts, from a Crème Brulee with vanilla ice cream to an indulgent chocolate mousse with caramel.


Goshen
Taking prime position on the vibrant Nahalat Binyamin St., Goshen is a stylish spot for high-quality kosher steak and delicious grill mix. Famed for its succulent range of meat dishes, influenced by French cuisine, patrons can dine on delicious meals of prime rib with papas frites and green beans, prime beef burger with foie gras and truffles, Brazilian goose liver and lollypop wings.


Olive Leaf Restaurant
Located within the Sheraton Tel Aviv, the Olive Leaf blends stunning ocean views amid a tranquil interior design inspired by its concept – the olive leaf. Based on a fusion of international and local tastes, skilled chefs create seasonal Mediterranean menus, incorporating beef, chicken, lamb, fish, pasta and salads, alongside specially prepared vegetables and appetizing artichoke and eggplant creams.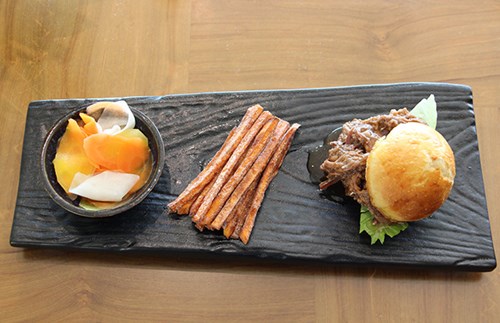 Herbert Samuel Ritz Carlton
For a decadent dining experience, head to the Herbert Samuel in the Ritz Carlton Herzliya. Run by Chef Mor Cohen, the famed restaurant is considered one of the best in Israel. Offering spectacular views of the Marina and beyond, the chic design allows for the ultimate intimate dining experience. The menu has raw fish dishes, homemade pasta, catch of the day and a range of beef from the Golan Heights, as well as limited edition dishes.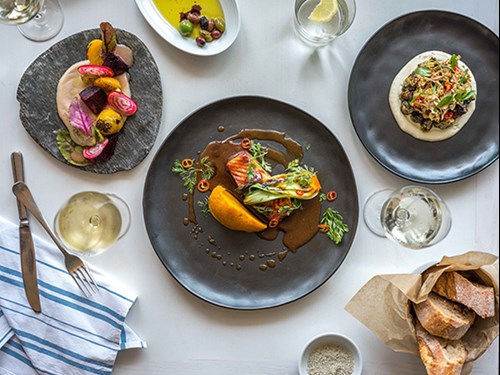 Pankina
The lively Italian spot, located at the Gordon and Dizengoff intersection, opened in 2017 and offers authentic European dining in both taste and atmosphere. A must-visit for pasta enthusiasts, the menu features all the Italian classics - Fettucine, spaghetti and penne pasta dishes, hearty lasagne, as well as Bruschetta with tomatoes and garlic, mozarelle fritte, Carpaccio di Salmone and other fish options. For dessert, feast on a decadent Tiramisu or sip on an after-dinner cocktail at the classic bar.


Cà Phê Hanoi
A creative take on traditional Vietnamese food, infused with flashes of French and Israeli brilliance, this hot spot beside Rabin Square serves an all-day menu of dishes straight from wok to table. Crispy spring rolls, Hanoi Street sashimi, Vietnamese beef tartare, refreshing papaya salad and so much more, are churned out alongside an inventive menu of cocktails infused with jalapeno chilli, elderflower liquor and white rum.


Lorenz & Mintz
For brunch lovers, head to the picturesque Neve Tzedek neighbourhood for a late morning treat at Lorentz and Mintz, a beautiful café serving homemade brioche with eggs benedict, green shakshua, flavorful salads and freshly baked goods, from croissants to meringues and everything in between.




Places to visit in and around Tel Aviv