The Best Restaurants in Tel Aviv
Dining in Tel Aviv is an experience second to none – where flavors, scents and textures, influenced by a medley of Middle Eastern traditions, join forces on an exemplary culinary scene. Tel Aviv, a hub for the latest trends in fine dining, street food and unparalleled cuisine by any standard, is renowned for innovative dining, with dishes produced from the freshest ingredients around.

Here are some of the best in show.


North and Central Tel Aviv

Lumina by Meir Adoni
Up-market, chic and oh so tasty, the kosher restaurant by renowned chef Meir Adoni is situated in the luxury Carlton Tel Aviv hotel. The menu is a combination of Jewish kitchen and Mediterranean, with dishes such as Confit goose leg, Entrecote burger and spring lamb spareribs gracing the menu. Fish and cheese lovers can rejoice at Blue Sky by Meir Adoni, another of the chef's kosher restaurants located on the hotel's rooftop, presenting a superb menu of fresh fish, vegetable and artisan cheese dishes.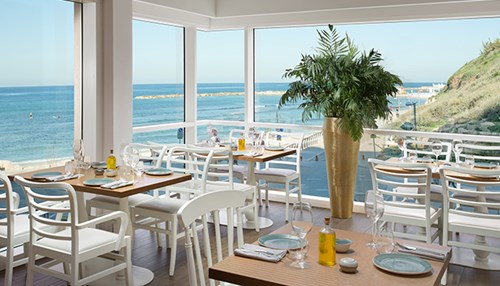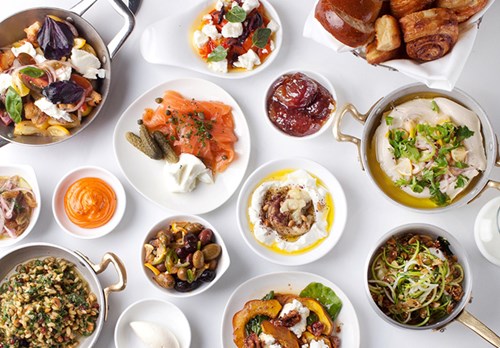 Claro
Chef Ran Shmueli, a veteran in Israel's culinary scene, opened Claro as a 'restaurant of entertainment' for the perfect social gathering with the Sarona complex. The 'farm to table' approach has fulfilled Chef Shmeuli's vision to prepare and serve dishes from Israel's freshest local seasonal produce. Diners can expect to find a Mediterranean menu featuring fish ceviche, lamb and sweetbreads kibbeh and eggplant steak accompanied by a fine selection of local and international wines and bubbly.



South Tel Aviv

Zakaim
Tucked away off Allenby St., and a two-minute walk from The Great Synagogue of Tel Aviv, is one of the city's best vegan haunts- Zakaim. The family run establishment features a mix of antique furniture, grand chandeliers and quirky tablecloths, enhancing the laid-back ambience. Dishes appear on the menu as starters, vegetables, BBQ, "From the Flames," and pastries. Staples include a skewer of oyster mushrooms, Greek Fatush salad and hand torn fries with vegan mayonnaise. A bag of chocolate almond truffles is among the alluring choice of homemade desserts.

Ouzeria
For the most delightful Greek Mediterranean cuisine in Tel Aviv, Ouzeria is your go-to. Located in Levinsky Market, the lively restaurant oozes with character and fun atmosphere. Some of the most-cherished dishes include the cherry jam and Feta Bruchetta, Avivit's Cauliflower, shrimp with homemade sundried tomatoes, and a green wheat risotto with vegan mushroom sausage. Wash it down with a skilfully mixed cocktail for a refreshing end to the meal.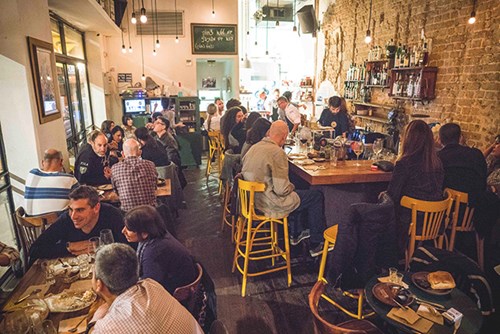 Popina
Burrowed in the trendy Neve Tzedek neighborhood, Popina has been a trailblazer on Tel Aviv's culinary scene, run by the young and talented chef Orel Kimchi. Designed with an airy open plan kitchen and a retro interior of stain glass, stone walls and green garden, this foodie haven categorizes dishes by cooking technique, with fish and seafood selections such as Gin & Tonic fish tartar, Shrimp Burger and Sea Food Pizza. The restaurant also has a special tasting menu with seven dishes bursting with creative brilliance.

Disco Toyko
The 'hipster-esque' restaurant is one of the newest spots on the Tel Aviv dining scene. An intimate space beside architectural and dining hotspot Herzl 16, guests can experience Pan-Asian influenced food adapted within the Israeli kitchen to integrate local tastes and ingredients. The mouth-watering menu features udon noodles with Asian greens, grilled chicken with steamed flat bun and pickle vegetables and sea bass with corn cream and homemade shiro miso, and matcha ice cream with almonds from their choice of dessert – yum!



Jaffa

Café Puaa
The eccentric restaurant in the heart of Jaffa's flea market is a popular spot for both tourists and locals, on any night of the week. Authentic and eclectic in its design, the menu features a traditional mix of nourishing Mediterranean dishes, including appetizing starters, meat and fish dishes, salads and an all-day breakfast with sabich and shakshuka.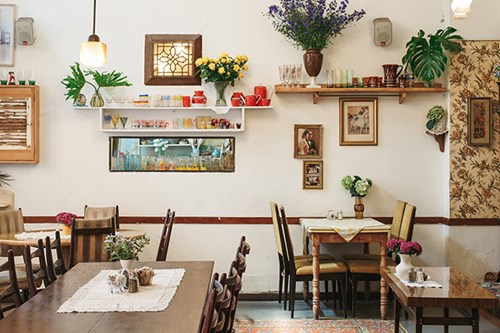 The Old Man and the Sea
Spend an evening feasting on salads and the freshest catch of the day at The Old Man and the Sea, a renowned establishment at Jaffa Port. Over 22 Middle Eastern salads are served at lightning speed, alongside warm Laffa bread and fish, meat or chicken prepared to your liking. Accompanied by breathtaking views of the Mediterranean Sea, the restaurant is an idyllic spot for large groups and families.




Places to visit in and around Tel Aviv