Tel Aviv to Host the Next Eurovision Song Contest
The 64th Eurovision Song Contest will be hosted in Tel Aviv, with two semi-finals and the main event taking place between May 14 and 18 in 2019. The international song competition began in 1956 in Switzerland, where seven countries battled it out to win first place on the entertainment show. Although the format has changed throughout the years, its premise has remained the same - a live broadcast featuring original songs by European country contestants. Interestingly, 'outside' countries have also entered the competition, including Australia which joined in 2015.


Notable winners
Some extraordinary artists have performed and achieved global success from their Eurovision wins. Abba, representing Sweden, were crowned winners for their 1974 performance of 'Waterloo'. In 1981, Bucks Fizz won for the UK with their song 'Making Your Mind Up,' and Celine Dion came out on top for Switzerland in 1988 when she sang 'Ne Partez Pas Sans Moi'.


Israel takes the trophy
Israel achieved back to back wins in 1978 and 1979, the first year for Izhar Cohen and The Alphabeta who scooped the trophy for their song 'A-Ba-Ni-Bi', performed in Paris where a record 20 countries performed. The following year, the show was hosted in Jerusalem where Gali Atari and Milk and Honey achieved the highest score for 'Hallelujah'. Fast forward almost two decades to the 1998 when Israeli pop singer Dana International was awarded top points for her song 'Diva'.


The 2018 Eurovision Winner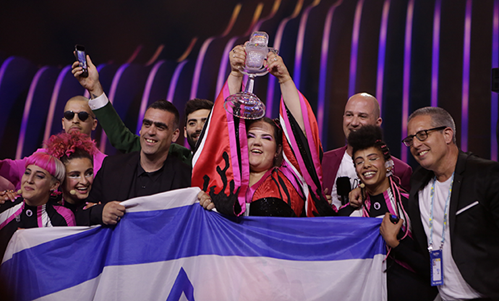 Arguably one of Eurovision's most triumphant wins came from Netta Barzilai, who won the 2018 contest with her performance of 'Toy' in Portugal. Her nail-biting win was not clear until the very last announced vote. With voting formats having changed numerous times over the years, the current system has been in place since 2016 which awards countries with points in sets of 1-8, 10 and 12, with a 50 percent split between public and jury votes. Despite placing third with international juries, Netta's top vote among televoters swayed the result, crowning her the 2018 champion to much applause and celebration.


What to expect in Tel Aviv
From the several cities bidding to host the 2019 Eurovision Song Contest, Tel Aviv was selected as the official host city. As an 'international hub of art and creativity, commerce and trade, media and academia,' according to the European Broadcasting Union and Israeli Public Broadcasting Corporation, Tel Aviv had the best criteria for accommodating the 2019 competition.

Two semi-finals, taking place on May 14 and May 16 will be held at the 10,000 seat Tel Aviv Convention Center, in additional to the grand final on May 18. Alongside the main shows, tourists and residents can attend various events and celebrations taking place across Israel.

As of September 2018, 34 countries have signed up to participate in the next contest. Tickets are expected to be released in late 2018 for nine shows, including jury and dress rehearsals, the live semi-finals and the grand final.



Places to visit in and around Tel Aviv